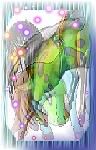 Leader

Posts: 245
Joined: Sun Apr 04, 2004 1:12 pm
Scythe smiled her ears flickered about as she nodded to his question
"I am just fine Cast"
she nuzzled his neck then looked at the Twist and smiled and bowed slightly towards him
"It is also nice to meet you as well Twist"
she watched as he left then looked at Cast and smiled flicking her tail around a little bit
"So Cast how have you been?"
She asked as she got close to him and nuzzled his neck alittle more. She then looked at the one she cared for the most.
Verity trotted around and a sight caught his eyes of Arch and Chime and he chuckled as he continued to trot around seeing what he could possibably do here. Though him never looking where he goes he tripped over his own hooves and hit the ground with a large thud. Slowly he stood up shaking off his fur he looked around to see if anyone had seen him trip and he slowly made his way from the other serains.
Bubble had seen what happened to Verity and shook his head the blue stallion was more like a watcher of the others. He was the first one to be adopted by his bonder and there for was considered the oldest, so he felt that he had to watch over the other two though Scythe he wasn't worried to much about. He smiled seeing that she was with Cast and was happy with him, though he had to keep an eye out on Verity who liked to get himself into trouble sometimes.
Verity made his way around and then seen the fireworks set up and seeing another serain near them, though the black and green serain just watched flicking his short tail around.
Amanda smiled and waved at Talia and the others and walked around other serains, she then looked around "Well this sure is some party" she laughed a little bit and crossed her arms as she spotted out Bubble keeping the look out of his basically family.
(you guys post to much >.<
lol^^heh)