Elder


Posts: 879
Joined: Fri Mar 11, 2005 9:29 pm
Location: Canada, Ontario.
"GET AWAY!" She snapped, bucking at her father. Spin reared to avoid being struck, glaring at SaphireSpin. "Saphire!" He snapped, landing the rear and moving to her side.
He spoke firmly to her for a minute, with the restless mare rolling her eyes and sighing heavily. "Frig off." She finally muttered, giving her father a glare that could easily stop a large stallion in his tracks. She whirled away from him and took off at a gallop, occasionly neighing and kicking up her heels, making sure Spin saw.
The red stallion sighed, and lowered his head. He knew going at such speeds and bucking was dangerous... But what could he do? He wasn't the stallion he used to be.
Saphy vanished into the forest below Rainer's Hill, she rounded a bend and slowed to a nice trot, flicking her mane. "That'll show him." She mumbled, glaring at the ground passing beneath her.
She soon felt her rage evaporate, and she returned to her usually shy self. She haulted and looked around, the trees above not allowing any light to pass between it's branchs, making the place fairly dark. A small stream was trickling by a couple feet to her left, that was the flapping of bird's wings were the only sounds.
Her lonliness soon caught up to her, and she started glancing around nervously. A cold wind picked up, ruffling her mane and tail and sending chills down her spine. Why did she leave when she did? It was fall, and of course it would start to get cold. The leaves had started falling, but not to the point where the ground was covered in them, but where you could look around you and point out a couple here and there.
She sighed, closing her eyes and thinking of a warmer place.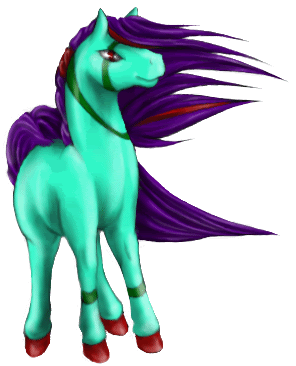 Last edited by
Rainer
on Sun Apr 23, 2006 8:57 pm, edited 1 time in total.