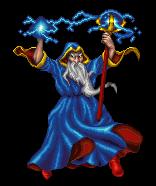 Regular

Posts: 10
Joined: Fri Jul 11, 2008 1:15 am
So I was right about that one
Mcderth thought to himself. He had no intention of letting down his guard. When she called him a creature he couldn't help but smile to himself.
This one is a bit of an annoyance isn't she? Ah well she'll be easy enough to ignore.
As they where waiting for the others to come down to the shore he sat up. After stretching for a moment he reached out his right arm, hand open and palm up. For a few moments nothing happened. Than from out of no where something that looked like a handmade walking stick appeared balanced in his hand. Closing his fingers around the smooth wood of his short staff he felt slightly better. He couldn't figure out why it took him so long to call it to him, but it didn't much matter. He didn't plan on being here much longer anyway.
When the others made it down he was a little more prepared to meet them. With a quick nod he addressed them.
I'm Mcderth, and as lovely as this little trip has been I'm afraid I have work to do.
Closing his eyes he drew upon the natural powers within himself. Calling to his home plain he dissapeard from the shore and headed away from this odd plain they called 'The foothills'.
Suddenly there was a flash of light before him and he found himself falling. With a stream of curses flowing from his lips Mcderth hit the surface of the water again. Bobbing up and down in the center of the lake he couldn't begin to figure out what was going on.
This is going to be one of those days.
(\__/)
(='.'=) This is Bunny. Copy and paste bunny into your signature to help him
(")_(") gain world domination!! Come over to the Darkside we have cookies.