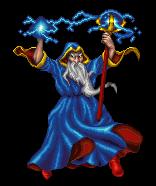 Regular

Posts: 10
Joined: Fri Jul 11, 2008 1:15 am
Taking a deep breath Mcderth calmed himself. He had never been one to let his emotions get the best of him; doing that could get a man killed. Becides this wasn't the strangest situation he had been in, sad as it was to think about. With a thought he was back on the beach.
No point in hiding my powers now, I think my hand has been played.
Waving his right hand in a dismissive motion all of the water that had clung to his body pulled away; running in thin strings through the air back to the lake. Turning to the group he smiled.
Don't worry ladies, I can only imagine how truly funny it must have been to watch that a second time. I'm afraid that I may be here for quite some time. It might be in my best interest to stop being a complete jerk and apologize for earlier. My name is Mcderth, and I have NO idea what I am doing here. It's great to meet you all!
Last edited by
Mcderth
on Wed Aug 06, 2008 10:07 pm, edited 1 time in total.
(\__/)
(='.'=) This is Bunny. Copy and paste bunny into your signature to help him
(")_(") gain world domination!! Come over to the Darkside we have cookies.