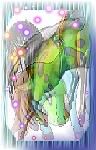 Leader

Posts: 245
Joined: Sun Apr 04, 2004 1:12 pm
Hey i just wanted to let you all know i haven't disappeared off the face of the earth. I just haven't had any real internet connection or anything else like that cept for when i am at my bf's grandparents.
But I thought I would let you all know things have been going pretty well for me. Recently found out that I am pregnant so idk if i would be able to get on as often as i would like if i get internet again where i live. But i sure hope so.
I am hoping that some day i can make an adoptable that i will love and enjoy making and maybe do something that would keep people interested but who knows wat will happen ha.
But ya how have you all been?