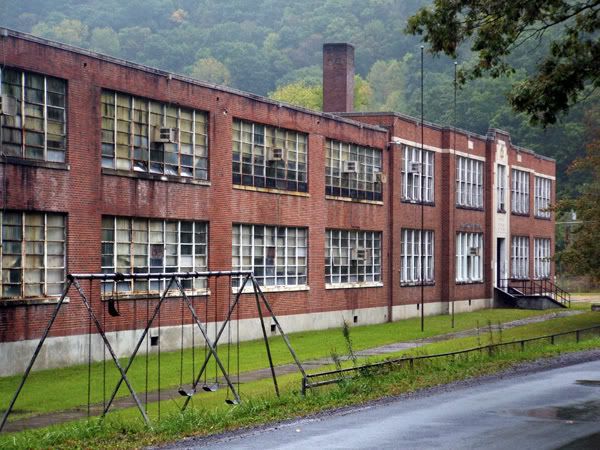 This is the place for role playing anything on school property. It includes the outside pens and anything inside the electric fences. Only Scientists, Hybrids, and Guards are allowed to enter this area. It is private property and any trespassers will be removed.
The School
The School is located pretty much in the middle of nowhere. It is surrounded by a dense forest and heavy steep mountains. The forest is lush with greens light and dark that hide the building and roads from complete view from any travelers in the distance. It's mostly like this in the summer and spring. In the autumn the woods turn into a vibrant wilderness of warm colours, such as red, goldenrod, browns, oranges and plain yellows. The school is slightly visible but the colours are almost blinding, so any nearby travelers ignore it. Finally, when winter rolls by and the trees are stripped bare of their colourful leaves, leaving the school out in plain sight, however, due to the several 'private property' signs planted around the facility no one dares to trespass. We can't forget the rumors that do spread around the seemingly 'abandoned' school.
As you enter farther into the privately owned land, the school comes into view. At first glance it looks like your typical 'run-of-the-mill' elementary school with swings and so on though you would be quick to realize that it's abandoned, or so it appears. If you travel closer you can hear strange noises coming from the buildings. Turning to your right, you can see a few windowless or tinted vehicles parked in the stone path to the east entrance. Turning around to face the west of the building a fence comes into view. It looks like a normal school fence from the distance but as you travel closer with curiosity, you see that it's not only barbed wire, bit it's also electrically changed. "What the hell?" You must think coming upon this strange fence. But there is more. Cameras are set up all around the perimeter. I suggest you leave as soon as possible. This place is known to those who dwell inside as a 'Hell Hole'. They would wish this not against their most hated enemies.
Still ever curious, you'll probably enter the building through the front door and what a surprise it is inside. It's pure white, with light green tiles. Cameras are everywhere. The lights are bright, so very bright. There are no shadows here to hide, only one you make as you walk further down the hallway. So it appears that there are many rooms here, all closed, all with numbers on them. If you open one of the doors farther to the south of the building, left side, you'll discover dog cages, kennels. "Animal experimentation?" You might think. You're half right. Here are where they keep children, yes you heard me correctly, children. Alive, mutated children. They aren't human anymore. they are abominations, a creation by scientists who decided to play 'God'. They are piled, one on top of the other, stacked against the right and left walls. It's horrible. You turn your head away and would probably dash down the hallway. Another room with bigger kennels. More rooms, some completely black, others as white as the hallways with the bright lights as well. There is something more horrible, the testing rooms, the iron tables where they strap the children to. A cold shudder runs down your spine as you twirl around to look away.
We can't forget the Scientist's lounge and commanding stations, that's where you charged into blindly next. they saw you and now you are running for your live, you human born child, you pure breed human. The alarm sounds, such a noisy thing. There are barks and snarling noises from behind you. Do you dare turn around to see? Yes. Yes you do. Half human beasts with parts of wolves, Erasers. Heart pounding, sweat running down your neck. You attempt what so many have already tried to attempt before, the final escape. Too bad you won't make it. The Erasers are faster, and you're only human. They tackle you to the ground as you scream and kick for freedom. The exit is so close, barely within your grasp, but not close enough. "Welcome to the School, your new more... pertinent home."